Hidden water pools have become the symbol of elegance in the pool industry because of their great advantages as well as aristocratic features. Let's see if hidden water pools are costly and what are the advantages or features that put them in a unique place as a swimming pool.
HIDDEN WATER POOLS
You are maybe wondering what is this hidden water swimming pool has become very popular recently. Most people are proud of their in-ground swimming pool and cannot wait to show it off to family and friends. But there is a new wave in technology that allows people to hide away their pools and create a larger patio space. With the click of a button or the flip of a switch, your swimming pool can be hidden away and a patio emerges for usable entertaining space.
HISTORY
A company based out of California called 'Hidden Water Pools' has developed the hidden water swimming pool. Invisipools has bought the company Hidden Water Pools and is now manufacturing them. This innovative idea is quickly gaining popularity and is the wave of the future.
HOW A HIDDEN WATER POOL OPERATES?
A hidden water pool is made up of a platform that is lowered to any depth from one inch to 6 feet. The water is kept in reserve and is pumped into the pool bed. When the platform is all the way up, it forms a decorative patio and people can easily walk on it and enjoy the extra space afforded by having the pool hidden away. The platform is raised and lowered by flipping a switch and takes less than two minutes.
WATCH A HIDDEN WATER POOL IN ACTION:
ADVANTAGES
A hidden water pool has several obvious advantages:
It is a space saver. You have more usable space, especially during the off-season and makes entertaining much easier.
There is big interest in the product.
People have been searching for a swimming pool cover that you are able to walk on and are not one on the market. This is a viable alternative.
Swimming pool safety is addressed. Many places require pools to have a safety fence around them to deter small children. Hidden water pools do not pose a drowning risk when they are drained or raised.
The depth of the pool can be easily adjusted and gives you the versatility of having a pool that is one inch to six feet in depth.
Hidden water swimming pools are considered to be environmentally friendly because of the lower amounts of chemicals needed to maintain them. There is a lot less water being wasted and cleaning a hidden water pool takes less time and energy.
DISADVANTAGES
While the advantages seem great, there are disadvantages of hidden water pools that need to be considered:
Extras do not really fit the design. Diving boards and slides would not be a bonus on a hidden water pool. When the platform was raised, the extras would look out of place. Water jets would be about the only real option that would be hidden when the platform was raised.
Small pools would not be worth the investment. Many people who have small pools or plunge pools would not need to invest in hidden water pools because the area that they cover does not add enough space to worry about.
Intricate layouts cannot be accommodated at this time. The hidden water pools are only available in circular or rectangular patterns.
HOW MUCH DO HIDDEN WATER POOLS COST?
While it is obvious that having the latest and greatest gadget is going to initially cost you more money, many feel that the cost of a hidden water pool is well worth the investment. The actual pricing on a hidden water swimming pool will vary depending on size and installation procedures. It is estimated that the cost of a hidden water pool is from $25,000 to $65,000 depending on size and installation procedures necessary.
Traditional swimming pools, even with adding the expense of the safety precautions that are required, are less expensive. They are also less impressive and with the introduction of the hidden water swimming pool, can be considered mundane.
The hidden water pool will eventually save you money because the water is stored in a reservoir underground and is not subjected to the cooling effects of the air. This makes it much more efficient to heat. The water is also not continuously exposed to the UV rays of the sun making it cheaper and easier to maintain the chemistry of the pool.
WHY INSTALL A HIDDEN WATER POOL
Everyone wants the newest thing that will make family and friends green with envy. Besides the advantages already listed, hidden water pools are the perfect way to show the world that you are up with the times. You are able to flaunt your money and social standing by installing the coolest new invention in swimming pool technology.
Hidden water swimming pools can be equipped with interesting and functional gadgets such as fountains, lighting and jets. Of course, these bells and whistles add to the expense of the hidden water pool, but in the long run are well worth the investment.
Unfortunately, it seems that only those living in specific states can experience the wonders of hidden water pools. Invisipools currently installs hidden water swimming pools in Arizona, California, Florida, Nevada and Texas. Although with an innovative product like this, it will not be long before they expand and anyone, no matter of location, will be able to invest in a hidden water pool of their very own.
AVAILABLE SIZES
There are many sizes available for hidden water swimming pools. You can choose a circular pool or a rectangular pool that will fit best with your backyard space. No matter the size of the hidden water pool, your neighbors will be astonished and jealous of the innovative pool that you have had installed. The sizes listed below are the most common hidden pool sizes that are being installed.
Circular Hidden Water Pools
18 foot diameter
16 foot diameter
14 foot diameter
12 foot diameter
Rectangular Hidden Water Pools
8 feet by 14 feet
10 feet by 18 feet
HIDDEN WATER SWIMMING POOL PHOTO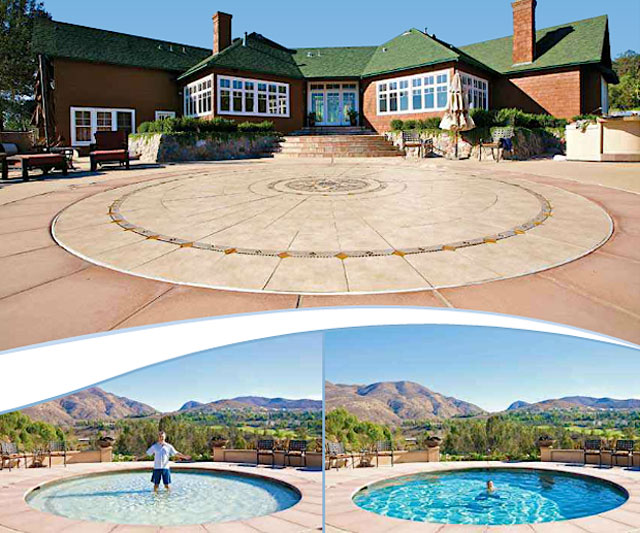 IN-GROUND POOL PHOTO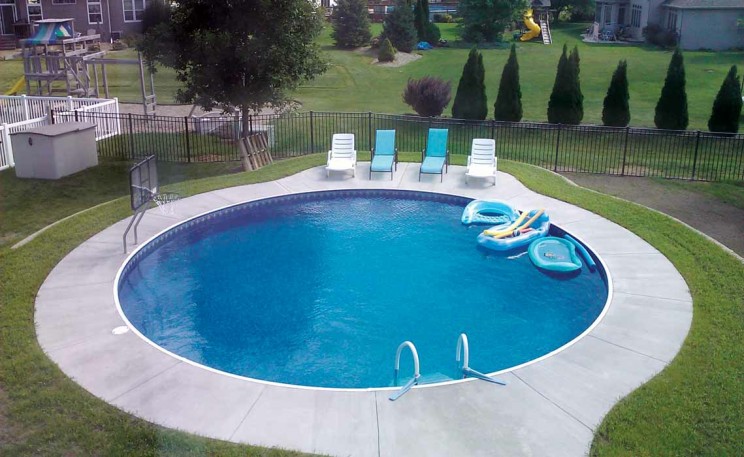 ABOVE GROUND POOL PHOTO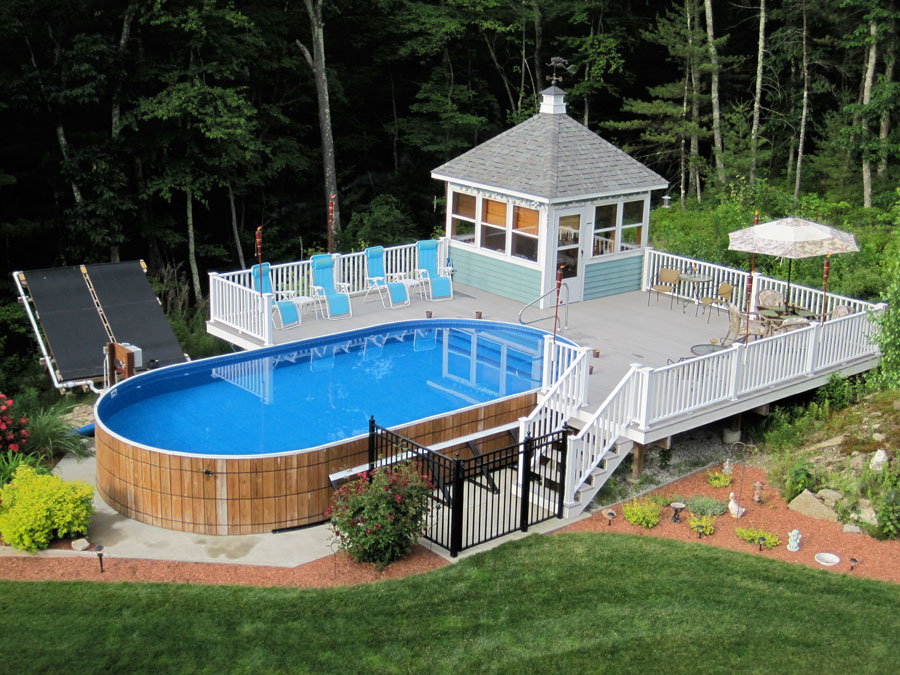 HIDDEN WATER POOLS VS. ABOVE GROUND POOLS
Above ground pools are the cheapest to install. They do not require the backyard to be excavated to accommodate an in-ground pool; they only require the leveling of the land where the pool will sit. Hidden water pools are the most expensive swimming pool option.
Above ground pools visually take up space and make the backyard look smaller, whereas hidden water pools are in-ground and have a platform that rises to give the backyard more space for guests.
Above ground pools do have pool covers, but these covers are not able to be walked on or are used as functional space. Fencing and decking is generally required for an above ground pool and that is more space that is used. Hidden water pools use a platform that rises and becomes a part of the patio when the swimming pool is not in use.
Maintenance on an above ground pool is similar to that of an in-ground pool. Keeping a constant check on the chemical balances can be time consuming and costly. Hidden water pools do not require as much time or cost to maintain them. Above ground pools, like in-ground pools, can have slides and other interesting entertainment items. Hidden water pools can have these things, but they would look odd when the platform is raised and a patio is formed.
The coolness factor of a hidden water swimming pool as opposed to a traditional in-ground swimming pool or above ground swimming pool is what makes it a must-have for anyone. It is essential for those people who entertain a lot and need the extra space afforded them by a hidden water pool.
HIDDEN WATER POOLS VS. IN-GROUND POOLS
While in-ground pools are cheaper to install than hidden water pools, they do not provide the prestigious allure that a hidden water swimming pool does. In-ground pools can be designed into multiple shapes and sizes whereas hidden water pools can only be circular or rectangular.
Hidden water pools expand the patio space of the home by lifting a platform and the water drains into a reservoir. In-ground pools use pool covers that can not be walked on and therefore, are not able to expand the patio space. Hidden water swimming pools do not need fencing as a safety precaution. All other pools need to have security fencing to make sure small children and pets cannot accidentally fall into the pool.
The cost of an in-ground pool, depending on size and shape is much less expensive than a hidden water pool. In-ground pools can have all the bells and whistles such as slides, hoops and swim up bars. Hidden water pools can have these features, but when the platform is raised, a water slide would look extremely out of place.
The cost to maintain an in-ground pool can be high. Keeping the chemicals properly balanced as well as cleaning and covering the pool can be costly. Hidden water pools cost less to maintain because they are not exposed to the sun's UV rays and the chemical balance within the water is not affected.